Automating and Testing a REST API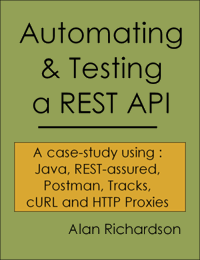 A Case study in REST API Testing and Automating using: Java, RestAssured, Tracks, Postman, cURL and HTTP Proxies
This 200+ page e-book documents a case study of testing and automating a REST API based application.
It covers interactive testing of the application through the GUI, and via cURL and HTTP Proxies.
And automating with Java and REST-assured.
Comprehensively documented, with full source code available, you're sure to learn something new.
This is the support page for the book with links to the source, tools and the free supporting videos mentioned in the text.
Tools etc.
Tracks
Tracks is an open source application written in Ruby on Rails which implements the David Allen "Getting Things Done" time management methodology.
Tracks Installers
Virtual Machine Software
Prebuild Tracks Virtual Machines
HTTP Proxies
The easiest HTTP Proxies to use are:
You could also use:
REST
You can find information about REST:
REST API Tools
REST Java API Libraries
The case study uses REST-assured:
Other libraries are available:
Source
The source code for all the Java code used to automate Tracks as part of the case study is available on Github
Postman Collection
The Postman Collection for the case study is available in the above source code and shared on the Postman site:
Videos
I created supporting videos for some of the chapters and sections in the book. These make most sense when read in conjunction with the book but offer a visual insight into tools used which the book can't cover quite as well.
Installing Tracks and using a virtual machine
An overview of Tracks GUI
An overview of REST interaction with CURL
Using HTTP Debug Proxies as part of your REST testing
Using HTTP Debug Proxies as Fuzzers to Create Data
An overview of the Postman GUI client
Using Postman GUI Client with an HTTP Proxy
Installing Tracks
An overview of Tracks GUI
An overview of REST interaction with CURL
Using HTTP Debug Proxies as part of your REST testing
Using HTTP Debug Proxies as Fuzzers to Create Data
Postman REST GUI Client
An overview of the Postman GUI client
Using Postman GUI Client with an HTTP Proxy
Related Reading
Other Blog posts and information you might want to read related to the material in the book, I include a lot of extra references in the book, but these were found after publication and I did not want to keep adding more links into the book, so I added them here instead:
Blog Posts and Sites: