When you want to improve, you need someone experienced working directly with your teams. We provide hands-on, work based consultancy, to help you take realistic action and improve your situation
Boutique Consultancy
Based just outside London, in St Albans, UK, Alan Richardson consults on Agile Software Development and Testing, including Test Automation and Technical Exploratory Testing.
Alan is a world-wide recognised expert in Software Testing and Development, having helped tens of thousands of Software Professionals improve their skills and approach.
When you need help with your Software Development, Selenium WebDriver Automation, Agile Testing, and Test Strategy; or even if you aren't sure what you need, but you just know you need an experienced Software Professional, then use the contact form below.
Helping people test and develop software better.
Contact Principal Consultant: Alan Richardson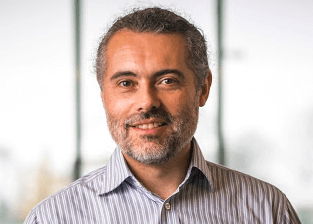 Connect with Alan on Linkedin uk.linkedin.com/in/eviltester
Alan wrote the books "Java For Testers", "Automating and Testing a REST API" ", Dear Evil Tester", & "Selenium Simplified", and has created a number of online training courses which have helped thousands of people improve their skills and career.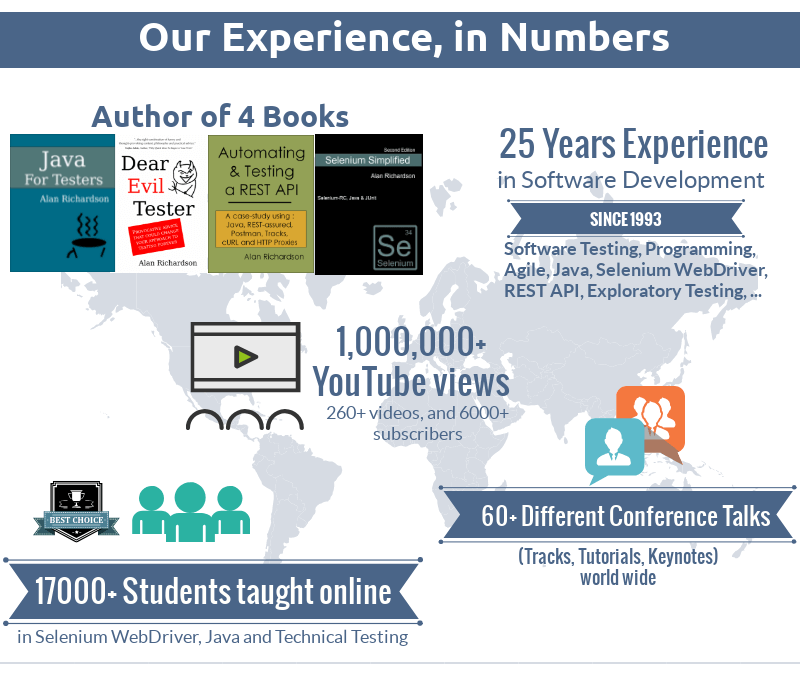 Experience Based Services
Alan has dedicated his entire professional career to improving the software development process. The challenges that this has offered  have allowed him to continually improve his Software Development skills as a consultant, manager, programmer, and tester.
Alan has worked as an Independent Software Testing Consultant in the City of London's Finance Sector, and world wide with Gaming, Media, TV, Airlines, Utilities, Pharmaceutical and Telecom industries. His work has involved Consulting, Coaching, Mentoring, Managing, and Automating; in addition to Developing Software.
Alan's hands on knowledge of programming and Software Development helps him work with the development teams as a peer. His experience allows him to understand the problems of the development environment, target the testing and help communicate effective unit testing and programming approaches. Alan can help you bridge any communication gaps between Management, Development and Testing teams.
Alan has presented his thoughts on testing as a Keynote and Track session Speaker at conferences world wide, including: StarEast, EuroStar, Let's Test, TestNet, TestBash.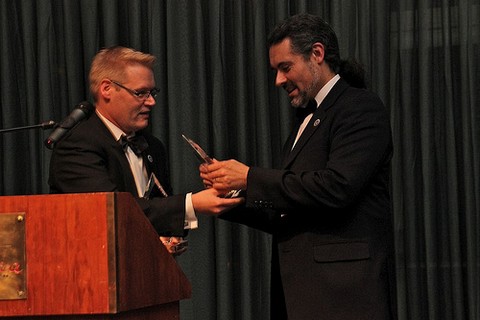 Receiving Award for Best Tutorial at Eurostar 2012
Compendium Developments Ltd.
Registered office:
39 The Metro Centre,
Tolpits Lane,
Watford,
Hertfordshire,
WD18 9SB

Company Number: 03613966.
Registered in England and Wales.
Vat Registration Number: 117626614.
Director Alan Richardson

Join Our Mailing List
When you join the e-mail list you will periodically receive information on our new resources, events and products.